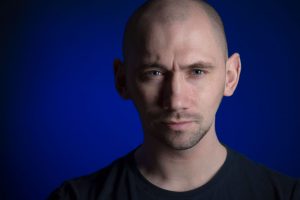 A little bit about me…

I'm Ian and I'm a magazine published Portrait and Headshot Photographer. I started taking photos after the birth of my first son back in 2011. I never expected to enjoy the experience of capturing the movements and expressions of people as much as I do. I quickly realised I was capable of taking more than just snapshots of my kids as they grow up, so I developed my skills in smart camera usage and various lighting techniques and as a result my wife is very pleased with how our family photo album looks. It was her reaction to my photography that prompted my leap into other fields rather than just photographing my kids on days out. Kolokial Shots was born….
Kolokial Shots aims to provide creative Professional Portraiture and Headshot Photography to those who seek it, including the corporate, commercial and performing arts sectors.
I decided to continue in portrait photography, this has led me into shooting Headshots for actors, models and people in the corporate sector. I also enjoy creating Fashion and Beauty images for portfolios. I find I get a great sense of fulfillment from providing my clients with images that go on to work for them. A Fashion designer can use my images to exhibit their collection through adverts and an Actors Headshot is an essential part of their CV. I'm not all about business though, I strongly encourage everyone I meet to get themselves an awesome portrait.
I'm a relaxed and down to earth person, easy to talk and work with all my clients to achieve images we both love. I'm based in South East Essex and shoot in my home studio. I have both studio standard and portable lighting equipment which eliminates some stress when shooting in various locations, I'm also fortunate enough to have access to several local studios should one ever be required.
I welcome all questions and enquiries so please don't hesitate to contact me.
Thank you for visiting.